Rectory Gas Supplies' Business Services
We provide LPG gas in bulk tanks and cylinders to a wide range of businesses for a variety of uses. We understand the need for a supplier which provides a consistently reliable service and at a good price which is why we tailor our services for each of our business customers. All the work we do is carried out by highly trained staff and experienced engineers.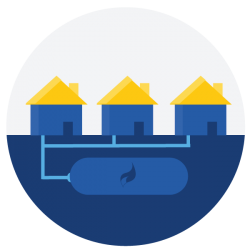 Property Developers
A metered LPG gas supply is an efficient and cost effective option for rural housing developments, businesses and industrial parks. For rural buildings, connecting to mains gas isn't always possible, a bulk LPG gas supply offers a great alternative option.
More information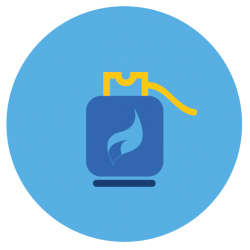 Gas cylinders are a convenient alternative to bulk supply and can be used for a huge range of applications.
---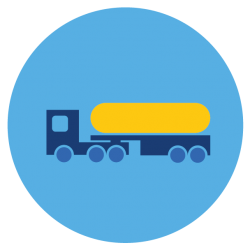 We can supply, install and deliver into bulk LPG gas tanks of all sizes, depending on your specific needs.
---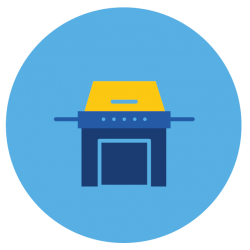 We offer fantastic savings on a range of LPG gas appliances including heaters and fittings, such as valves and pipes.
Business customer testimonials
"Rectory Gas have been supplying gas to my business since 2001, and in 16 they have never let me down, when I need them they have always been there for me and my business. The Rectory Gas price is always fair which is one of the reasons I never look elsewhere."
P. Akcicek, Fish and Chip Shop Chain Operator
"We have used Rectory Gas for a number of years at different outlets. We have always found Rectory Gas to be professional and cost effective, LPG levels are always kept an eye on by passing tankers, ready to top up and keep our cylinders full; so we never have to worry about running dry. Rectory are always on the end of the phone should a problem arise and customer service has always been very good. The team are very approachable and helpful. We have always experienced a good working relationship with Rectory and do not see it changing any time soon."
Lisa Rushworth of The Highwayman
"We have used Rectory Gas for more than 10 years, they provide us with cylinders, and also our bulk gas deliveries. We have always found Rectory Gas to be helpful, efficient and good value. The driver always has a few difficulties at our site, as it can be quite congested, and therefore difficult to get to the tanks. He has always been cheerful and managed to safely overcome all obstacles! Come rain or shine, warm or cold – we continue to recommend Rectory Gas to all of our customers and acquaintances."
Mr Hopkinson of Stream and Moorland Garden Centre
"We have been very satisfied with the service we have received from Rectory Gas Supplies. You have always been obliging with supplying gas, as and when we have needed it. A service like this is very important to us in our busy periods at harvest time and we appreciate it very much. Thank you."
Mr Wilson of DJ & JE Wilson, Harome