Rectory Gas Supplies Household Services
Established in 1988, we began supplying LPG gas to homes near our base in Yorkshire and have continued to look after a lot of the same customers today, almost 30 years on. We take great pride in providing all of our customers with a brilliant service that is good value for money.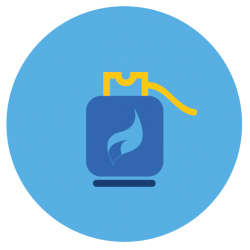 Cylinders are used for heating homes around the UK, they can also be used for gas cookers and leisure activities.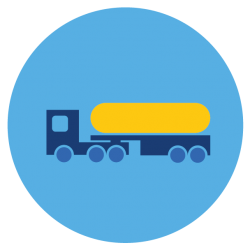 Gas tanks provide homes with gas all year round, and are the perfect option if you have the space available.
---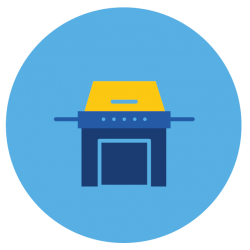 Take a look at our LPG gas appliances for the home; including BBQs and heaters for indoor and outdoor use.
---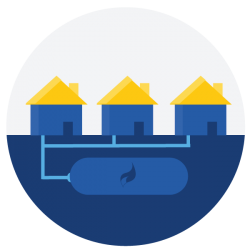 Metered Estates
A metered estate supply is when several houses draw their LPG gas from bulk LPG gas tanks. Each house has a meter that reads how much LPG gas their house has used, just like a main gas supply.
Metered estates information
Household customer testimonials
"I continued to take LPG from Rectory, as per the previous owner of my house, and have found the service exemplary, completely reliable so that I never had to worry about running out. On the few occasions where I have contacted the office, the response has been prompt and thorough. Rectory demonstrates that when it comes to utilities, service is as important as price."
Mr Burdon-Cooper, Easingwold
"I have been purchasing from Rectory Gas for almost 20 years. They are a friendly company and their service has always been impeccable. I would recommend them to anyone."
Mrs McWilliam, Bishop Wilton
"A five-star rated, independent company with customer service, reliability and competitive pricing which never failed me in the 12 years that I have been a loyal customer. Liam Milner, who in recent years has taken over the reigns, has ensured that whether ordering by e-mail, phone or text, the efficient staff have processed without delay. The various payment methods accommodate those who prefer online banking or a more traditional form of transaction. I would strongly recommend Rectory Gas Supplies."
Mrs Cawthorne, Farlington
"We have been supplied gas by Rectory since 2003 and have been very happy with its efficient and friendly service. Here's to another 13 years of service from you. Many thanks Rectory Gas."
"I'm pleased to say we have not encountered any problems with our deliveries over the last year and the transition was simple and easy to do! In fact you took care of everything! We have been happy with the pricing structure and don't have to worry about if we're getting the best deal or not as we know you're competitively priced right at the start."
Mrs Metcalf, Shiptonthorpe
"Living in a rural village with no mains gas supply, LPG is essential for my hot water and heating. I was a customer of another supplier for years. When I had issues, I could never get them resolved as nobody wanted to help and I was promised call back after call back. I called Rectory Gas Supplies, who are local to me and the next day Liam came round and offered me an extremely attractive deal. My existing supplier refused to lower their price and so I signed up with Rectory and have never looked back. The switch was seamless, my tank is always full and whenever I call or email there is someone at the end of the phone who deals with my query effectively and in a friendly manner. I'd recommend Rectory wholeheartedly to anyone who wants a good price with great service!"
"Thank you for making the switch process so easy. I wish we had done it years ago, but we didn't know how easy it was. It was good of you to take the time to come and see us at home. It is nice to now be a customer and feel appreciated, and not just an account number. Now if I have to phone the office, I know who I am talking to and you know me, which is a nice experience, plus you have saved us a lot of money."
"I had Rectory recommended to me earlier this year, so I contacted Liam as the property I had purchased had four gas bottles. Liam came out and inspected my property and recommended a tank to be installed. After having a trench dug out Rectory managed the installation in good time. Everything went smoothly. I would highly recommend Rectory Gas Supplies. Thank you Liam for your help and expertise."
Mr & Mrs Donkin, Burton Fleming
"We had been with our old supplier for years. They were expensive, difficult to contact and not that helpful. Then we switched to Rectory Gas Supplies who were local, available on the phone, responsive and cheaper. The switch was easy – Rectory did all the work – and the service since we moved has been excellent."
Mr & Mrs Hunter, Burythorpe